SF and Fantasy fiction magazines: those listed below are magazines which publish fiction, rather than just articles and reviews, though many of them contain these as well. They are also magazines with websites. The links have been divided into two categories, and although such categories can at times be misleading, on balance we find them useful. The kinds of speculative fiction published are detailed under each entry.
Professional Magazines
Semi-Professional and Independent Magazines
back to SF contents
---
Interzone
The leading British magazine.
Weird Tales
A US publication, Weird Tales is one of the world's leading dark fiction magazines. The writer's guidelines at their site include good advice on how to write short fiction.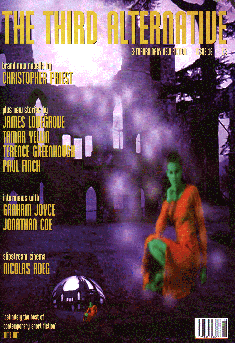 The Third Alternative
Award-winning independent press
magazine from the UK. Publishes dark
fantasy and slipstream stories.

The Magazine of Fantasy and Science Fiction
A top US speculative fiction magazine.
The Edge
UK magazine. "The SHARPEST magazine in the world".
ScienceFictionMagazines.com
SF magazines subscriptions
---
Semi-Professional and Independent
Enigmatic Tales
A quarterly print anthology of supernatural short stories and artwork. Also features an online version. A British venture not to be confused with the defunct US publication.
Spectrum SF
UK Science Fiction magazine with high production values.


The ZONE
"The last word in science fiction magazines publishes original short stories and genre poetry, in-depth interviews and profiles of prominent authors, a wide range of critical articles, fantastic artwork, and an incisive media review section in every issue!"
Redsine
New Australian magazine of horror, science fiction and dark fantasy. Also has an online version.
The Urbanite
"The Urbanite features tasty nuggets of horror, surrealism and contemporary dark fantasy by modern masters and extraordinary newcomers."
Fantasque
Fantasque Magazine is a print digest of fantasy, horror, and science fiction appearing three times a year.
Lore
"The Digest of Maddening Fiction".
Talebones
"A magazine of science fiction and dark fantasy." Very high production values on both magazine and website. US.
Roadworks
"Tales from the hard road." British magazine. Quarterly, A5 perfect bound. Horror, science fiction, dark fantasy and slipstream.


Akkadian
"Writing from the Edge". US magazine.
The Dream Zone
"A small press publication featuring the best in imaginative fiction, from both new and established writers".
Sinister Element
"Sinister Element is an upcoming dark fiction zine".
Kimota
British independent-press magazine of speculative fiction.
Lexikon
"Lexikon is a varied and lively magazine for writers. Based in the UK but with an international focus, it includes practical advice, market and other news, reviews, competitions, poems, stories and a special section for children. Published quarterly, Lexikon is available on subscription in printed form as well as on cassette for the visually impaired."
---
Links suggestions on this page have been provided by:
Lawrence Dyer, Keith Brooke, Tony Lee