Andy Cox's_____________
Magazine Spotlight
---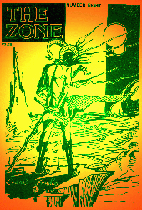 T H E Z O N E

"a very well conceived and executed SF mag - Rick Cadger, Zene #7

"Equally insightful, detailed and entertaining" - Andy Cox, Interzone

"does SF full justice… in all its hybrid forms" - Andrew Hook, Zene #20
We begin our monthly Magazine Spotlights with The Zone. This is one of those magazines that seems to have been around forever, even though it's only eight issues old: it hit its stride immediately, and has kept up an incredibly high standard ever since. It's big, with lots of content: stories, interviews, comment, reviews, top ten lists... all written by experts, often with the involvement of big name authors. Pure science fiction. Pure entertainment.
THE ZONE:
Current issue
General statement of editorial policy
Read short fiction from THE ZONE
Read poetry from THE ZONE
Read a book review from THE ZONE
Contributors' guidelines for writers and artists
Address and email
Subscriptions
Links to THE ZONE

General statement of editorial policy:
The ZONE - the last word in science fiction magazines.
We publish original short stories and genre poetry, in-depth interviews, profiles of prominent authors, incisive critical articles, topical and retrospective features on a wide range of SF themes, fantastic artwork and cartoons, and a comprehensive media review section in every issue.
Current issue: The ZONE #8
includes fiction & prose by Bruce Boston, Stepan Chapman, Robert Earl, Phil Emery, Simon Kewin, Steve Sneyd, John Travis & D.F. Lewis, David Underwood.
SF verse showcase featuring Larry Blazek, with introduction by Andy Robson.
Interviews with top genre authors - Louise Cooper, Charles de Lint, Jon Courtenay Grimwood, and Mickey Zucker Reichert.
The fifth and final part of Steve Sneyd's acclaimed history of SF poetry.
Critical articles on DC Comics' superheroine Wonder Woman by David Sivier,
and the Quatermass movies & TV saga by Andrew Darlington.
Original artwork & illustrations by Chris Crielaard, Edgar Franco, Alan Hunter, John Light.
Critical top-ten-SF-novels lists from Andrew Darlington, and Ceri Jordan.
The ZONE Review pages provide comprehensive coverage of genre books, cinema, video & TV.
Contributors' guidelines for writers and artists:
Unsolicited manuscripts are always welcome, but s.a.e or IRC is essential for our reply.
Standard ms format: double-spaced text, don't justify right-edge, paperclip don't staple.
No submissions by e-mail unless by prior arrangement with the editor. A personalised covering letter is preferred: include brief biographical info and publication credits. Query by post (with s.a.e or IRC), or e-mail to the editor, Tony Lee. No phone callers, please.
Remember to enclose sufficient postage to cover the cost of returning your submission, because Pigasus Press cannot reply unless your mss is accompanied by s.a.e or IRC. Any submissions received without return postage will be considered "disposable copy".
The ZONE buys FBSR but prefers writings that are unpublished anywhere in world.
Pays £5/$10 for stories and non-fiction over 2000 words + copy of the magazine.
Copy only for poetry, art & reviews. Payment made upon publication.
The most important piece of advice we can offer is - study copies of the magazine first! Fiction: 500 to 5,000 words, longer pieces considered only if exceptionally good. Original high-quality SF/fantasy. Horror must have SF elements, and be psychological rather than gory. No supernatural fantasy-horror, or traditional sword & sorcery quests.
If in doubt, please do send it, but be warned that a majority of submissions are rejected. We publish imaginative prose on a wide variety of genre themes. Cutting-edge SF and experimental writing styles (cross-genre scenarios, "slipstream", etc) are also welcome.
Articles: 1,000 to 8,000 words, longer work considered for serialisation. Interviews with prominent genre authors are a priority, but the contributor should know subject well and ask intelligent questions. Essays and theme-based non-fiction writings are a regular feature of THE ZONE, and we have ongoing umbrella columns (write in for more details, s.a.e/IRC essential) as well as publishing one-off, polemical items.
Verse: We also require genre poems of 50 to 70 lines (work must fit comfortably on a page at minimum 8 pt. text). Poetry for the magazine's UniVerse showcase is by invitation only.
Reviews: 250 to 500 words, approx.
Book reviews are normally commissioned by the editor but new reviewers are welcome. Send a sample of your writing, whether published or unpublished, and some details of the types of books and genre themes you enjoy. A list of your favourite authors is helpful. Reviews of genre cinema, video and television are usually written by regular columnists but suggestions for longer studies (up to 3,000 words) will be considered. Query first.
Artwork: Quality b/w, genre illustrations for front cover. (A4 with half-inch plain border.) Talented artists wanted, urgently, to produce sequential artwork for our unique 'Graphic Poems' - please get in touch and send copied samples of your work, published or unpublished.
Photos: All photographic material must be b/w and screened "camera ready," if at all possible.

The ZONE
Pigasus Press
13 Hazely Combe
Arreton
Isle of Wight
PO30 3AJ
England
Email: pigasus.press@virgin.net
Website: http://freespace.virgin.net/pigasus.press/index.htm
Editor: Tony Lee

Price per issue: £3.25 (UK only)
Europe: £4.50
USA/rest of world: £5.50
Subscription: £12.00 four issues (UK only)
Europe: £18.00
USA/rest of world: £22.00
Cheques/PO must be payable to "Tony Lee"
Overseas orders, pay by International Postal Order in British Sterling.
Read short fiction from THE ZONE
Read poetry from THE ZONE
Read a book review from THE ZONE
Links to THE ZONE:
http://freespace.virgin.net/pigasus.press/

---
Back to THE ZONE Magazine Spotlight contents
Magazine Spotlight general index
About magazine spotlight
Back to Dowse Science Fiction Hub
Antiques
Archaeology
Architecture
Art
Autos
Books
Computing & Internet
Cryptozoology
Dowsing
Dreams
Education
Entertainment
Fantasy art
Fiction
Free Stuff
Games
Gardening
Geography
Geology
History
Landscapes
Movies
Music
Mysteries
Myths & Legends
Paranormal
People
Philosophy
Photography
Poetry
Religions/Beliefs
Science Fiction
Sciences
Security online
Shamans
Theatre
Travel
TV
Web Makers Tools
Writing & Publishing
. How to make
dowse
your start page
. Your free email:
you@dowse.com
. Message boards
& communities
. Suggest links
. Link to us
. About dowse
. Search the web
. dowse home
Antiques
Archaeology
Architecture
Art
Autos
Books
Computing & Internet
Cryptozoology
Dowsing
Dreams
Education
Entertainment
Fantasy art
Fiction
Free Stuff
Games
Gardening
Geography
Geology
History
Landscapes
Movies
Music
Mysteries
Myths & Legends
Paranormal
People
Philosophy
Photography
Poetry
Religions/Beliefs
Science Fiction
Sciences
Security online
Shamans
Theatre
Travel
TV
Web Makers Tools
Writing & Publishing
. How to make
dowse
your start page
. Your free email:
you@dowse.com
. Message boards
& communities
. Suggest links
. Link to us
. About dowse
. Search the web
. dowse home