Aliens
"Visions of what extraterrestials might be like"
red hedz
The incredibly weird artwork and fiction of Hertzan Chimera.
Eyes of Chaos
The Art of Mike Bohatch, artist of The Third Alternative #23 cover and Crimewave #3 cover.
Gerald Brom
The work of a fantasy, horror and science fiction artist. Very fine sometimes grotesque or a little nightmarish images.
Jim Burns
Probably the best-known contemporary British Science Fiction illustrator.
Howard David Johnson
Howard David Johnson's photo-realistic paintings and artworks feature fairies, mermaids, monsters and other fantasy subjects drawn from myth and legend.
J.W. Baker
Fantasy and wildlife 'wearable' art.
Stephane Belin
Multimedia illustration.
Dragons
Paintings of dragons by famous and established artists.
Fairies
Images of fairies and similar by established artists.
Frank Frazetta
Famous fantasy book cover and movie poster artist.
| | |
| --- | --- |
| Experience a different slant on life in the surreal world of Howard Gardner. | |
Sue Dawe
Fantasy illustrations of the epic kind
Defa Design
The fantasy artwork of Douglas C. Defa (warning: some violence and nudity).
Ananya's
Gallery of several fantasy and sf artists
Geoffrey Chandler
Astronomical paintings - literally! Beautiful images from this San Francisco artist.
April Lee
Epic fantasy images
Rene Magritte
20th Century Belgian surrealist artist.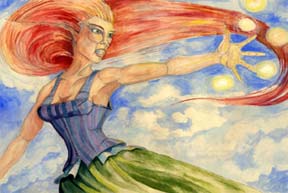 Laura Pelick's 'Fallenlights'
Fantasy art gallery of original illustrations of Laura Pelick. Some superb drawings of female elf-figures here.
Mermaids
Images of mermaids and similar by established artists.
Richard Fields
Amazing fantasy paintings from this Maui artist
Howard David Johnson
Fairies, myths, mermaids, dragons, giants, 'wild women', etc. in the photographic style of this prolific artist.
Russell Dickerson
Horror & Fantasy - Flash - Graphics
Alan Rabinowitz Illustration
"Illustration, Fantasy art and portraiture of the artist. Portfolios and free art for personal web sites."
Evert A. Robles
"Amsterdam-based artist Evert A. Robles challenges you to look deeper, beneath the surface; into the soul."
Geoff Taylor
Fantasy Book Cover Artist and Wildlife Artist. Geoff Taylor is responsible for superb cover art on many fantasy books, notably those of Robert Holdstock
Poster Search Engine
Search for posters and prints
Artworks by Joseph D. Greenwood
Portfolio of wildlife, fantasy, and surreal sci-fi paintings, drawings, and digital art.
Fantasy Artworks
Fantasy art and prints
Lauren Halkon on Art Sites:
Visit Lauren's own site at http://www.halkon.co.uk
Diddlerworld
Homesite of my partner, Richard, who also maintains the Roadworks website. This site contains some of his artwork and details of his photo restoration business (at which he is very, very good.)
My Pet Skeleton
This guy doesn't know me from Eve, but I thought his artwork was so good it deserved a link. Go have a look, you won't be disappointed.
Sandy Gardner
Homepage of another talented digital artist. Go here and be amazed.
See Lauren Halkon's photographic art on the cover of a new book:
"An isolated stone cottage with no mains water, invaded by mice, rats and swarms of insects, a place where giant snowdrifts sever the electricity supply and all connections with the outside world... This is what Lawrence and Christine Dyer face when they start a new life up in the bleak, rocky hills of the English Peak District..."
A place of dreams and nightmares... a dream come true?
click to find out more
---
News - latest worldwide arts news, updated daily
Fantasy and Science Fiction art prints and posters
Fantasy and Science Fiction Magazines
Science Fiction and Fantasy Fiction
---
Links on this page compiled by: Lawrence Dyer, Tony Lee,
Andy Cox, Lauren Halkon.
............................................................................................................................................